Lately, there are many new at-home microdermabrasion machines hitting the market, mainly from upstart new companies that are heavy on marketing hype and claims about improvement in the appearance of your skin. Most of these new companies do little to back up their claims with scientific data, clinical studies, or consumer studies showing the effectiveness of their microdermabrasion device.
This week, we wanted to take a look at our best selling home diamond tipped microdermabrasion machine, the MicrodermMD, and compare it to an established competitor, NuBrilliance.
Comparing the best home microdermabrasion systems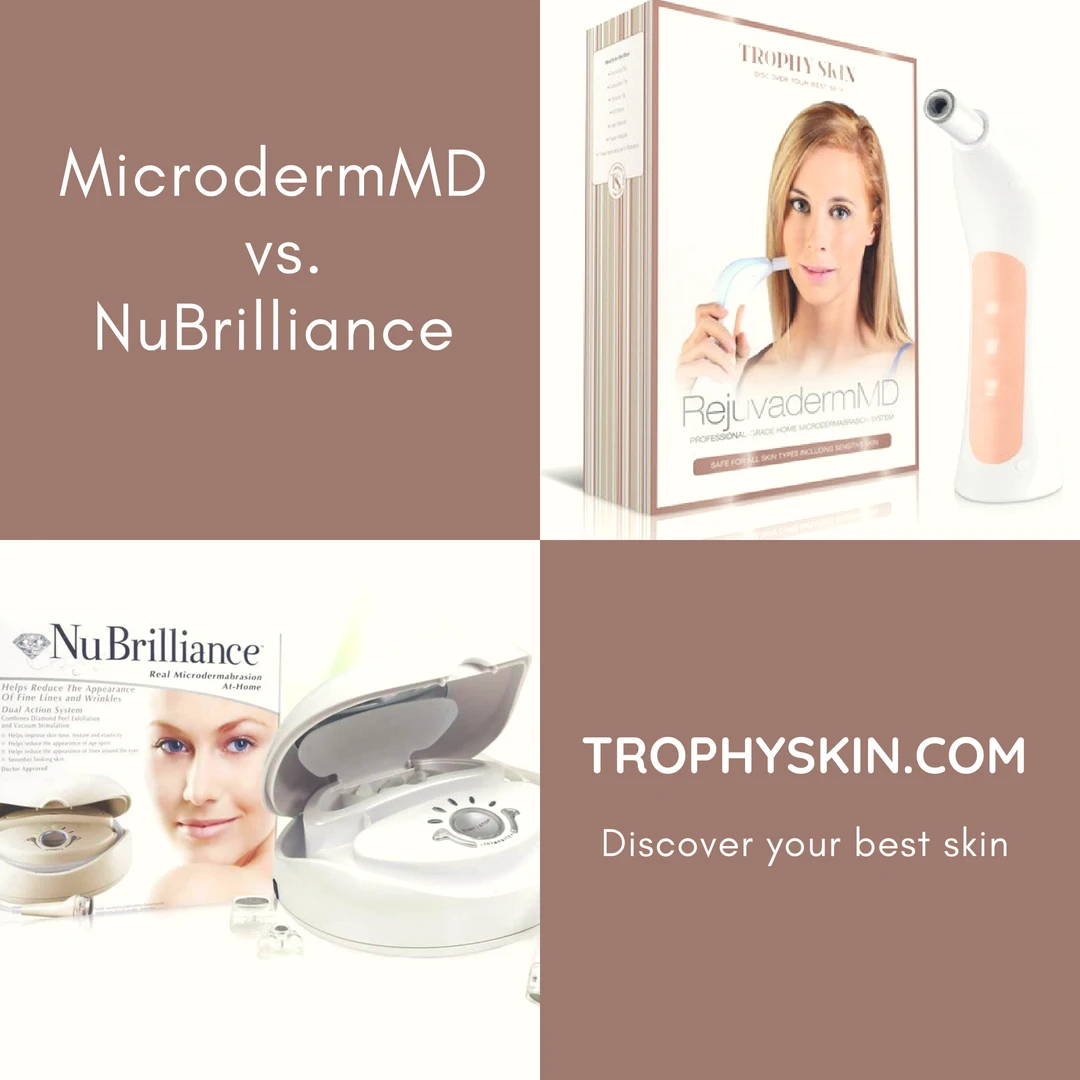 Both of these microderm devices are made for use at home and are the "tabletop" style that sits on a countertop and house the components inside of a clamshell style enclosure. This type of tabletop microdermabrasion system is ideal for those who have ample space in their bathroom and will not be traveling with or taking the product with them often.
However, the larger size and weight allows for a more powerful motor inside the machine, which is generally more comparable to the microderm machines found at the dermatologist office, medspa, or spa.

Aside from the size and weight of the devices, the MicrodermMD differs quite significantly from the NuBrilliance in a number key ways. First, MicrodermMD contains a much larger magnifying mirror inside (new for 2015), which allows users to see their skin up close and work on problem areas with ease.
Additionally, MicrodermMD is the only at home microdermabrasion system that has a software to guide the user through a proper treatment. You simply power up the device, turn on the Auto Mode, and follow the step by step instructions for a fast and easy treatment that is done properly.

NuBrilliance has 5 suction power levels, whereas MicrodermMD has 8 suction power levels, allowing for a more customized treatment for your skin type and different body areas. However, the big difference is in the diamond tip, which is what causes the "abrasion" in "microderm-abrasion".
Trophy Skin uses natural, real diamond particles to create our diamond tip, which allows it to last from 6-12 months before needing to be replaced. The natural diamond particles are gentle and safe on the skin, and are the same materials used by professionals in high-priced microderm machines.
From what we have read and tested on the NuBrilliance machine, they use synthetic diamond particles, which allows their diamond tip to last up to 3 months before needing replacement.

Finally, another key difference in the home microdermabrasion machines is the availability of additional diamond tips and attachments to further enhance your skincare treatment. MicrodermMD has optional diamond tips such as the Precision Tip, Body Tip, and Fine Tip that are made for different body areas and skin types.
NuBrilliance also offers additional tips for sale on their website. However, MicrodermMD comes with the Pore Extraction tip, used to remove dirt and oil from the pores, similar to extraction treatments done at the spa or salon. And we also offer the Infusion Tip, which helps to increase the absorption and effectiveness of the skincare products you're already using every day.
These two tips, in addition to the diamond tip offerings, make the MicrodermMD a true 3-in-1 home microdermabrasion machine that is super easy to use.

If you have any questions about our comparison between MicrodermMD and NuBrilliance, please get in touch with us to learn more about our at home microdermabrasion systems.