Updated January, 2020.
This blog post will highlight the various accessories that are available for each of our Trophy Skin home microdermabrasion systems. We will explain each item and how to use it to maximize your investment in your home spa tool. All accessories mentioned fit and work with each Trophy Skin microdermabrasion kit -MicrodermMD - RejuvadermMD - MiniMD
Microdermabrasion treatments performed in a medspa or dermatologist office average upwards of $100-$150 per treatment. It is a no-brainer to invest in a home machine that uses the same technology that the professionals us, but is designed in a way that is SAFE and EASY TO USE for anyone.
Microdermabrasion treatments alone are enough to make your investment pay off in just a couple of uses. But after you finish this post you will learn how much more you can do than a standard office microderm treatment!  
We now have 4 diamond tips available to use with Trophy Skin microdermabrasion systems. We invite you to stick to our standard tip or try them all!
Our standard diamond tip that comes with all 3 of our systems has medium coarseness. This means that it is suitable for face AND body. You may use this tip for the face, hands, and knees. It is the most versatile and therefore needs to be replaced at least every 3-6 months.  
When you notice that it is getting smooth and the debris is not cleaning off as easily, you can try to prolong it's life by having it cleaned ultrasonically. Or just get a new one. It is a great idea to keep an extra 1 or 2 on hand so you can share with a friend, or at least have a backup!
Next, is our precision diamond tip. This tip is optional for all of our kits and is sold separately. This tip features fine-grade diamond particles and a smaller head & opening to keep suction flow from being too strong.  
If you want to target Crow's feet or have angular features that are difficult to treat with our standard tip, this is for you! Personally, we use this tip around the eyes, on the nose (especially the bridge area) and on the surface of the lips. We received feedback that this tip is perfect as a lip exfoliator and plumper. And it is!!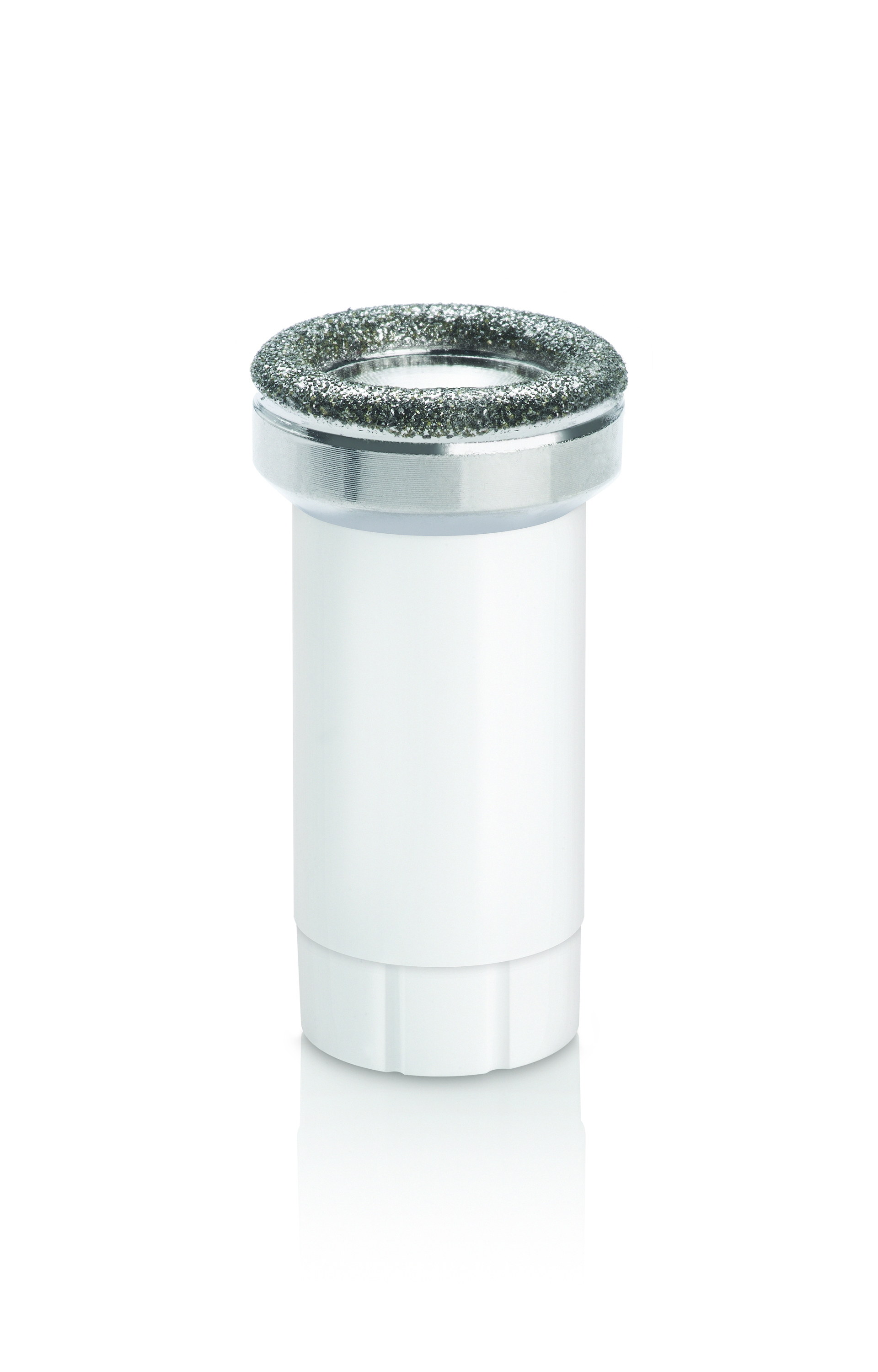 The body tip affords you the luxury of a fully body treatment that most people would never think of doing at the spa! With a 50% larger head than our standard diamond tip and extra coarse diamond particles, this tip makes quick work at softening the chest, arms, legs, etc. You definitely want to check your filter often when doing body treatments. This tip will pull off a lot more than just doing a face treatment!
Our last tip is a fine-grade diamond tip made especially for those with sensitive skin. Even those of us with sensitive skin can experience the benefits of microdermabrasion with this tip. The smoother surface is still effective at sloughing dead skin cells off. Combined with adjustable suction, you will be able to treat nagging skin problems without worrying about how it will affect your sensitive skin.  
*as usual, you will want to perform a skin test to be sure you skin reacts normally.
The pore extraction tip is unique to Trophy Skin microdermabrasion systems. This is typically a different treatment in the spa with an altogether different tool to use. This tip is designed to utilize the suction motor (on the lowest setting) to safely & gradually draw out excess oil, blackheads and whiteheads.  
Using this tip on alternate days from microdermabrasion, you are attacking clogged pores with exfoliation/suction and targeted suction you can see! Gentle strokes across problem pores on the lowest setting will have you amazed.
The infusion tip was developed to deeply infuse skin care products onto freshly primed skin. Your skin care has a greater chance of doing its job when you do regular microdermabrasion treatments. Our unique infusion tip takes your serum deeper where it can work the best, giving you the best possible results.  
We admit, the way this tip works is very counter-intuitive. A FAQ we get is, won't it just suck the product up?!? The answer is No. The way this tip is developed, the channel that is around the opening holds the product and keeps it from being removed with the suction.  
The suction is an important component. On the lowest setting, you will be gently opening the pores. Gliding the tip, the channel will push the product into those open pores as you move across the skin's surface.
We pay a lot for those expensive lotions and serums, we want to make sure they don't just sit on top of the skin where they can't do their job!
Finally, for best results, you want to use your system regularly. We recommend 1-3 times per week depending on your skin type and condition. To work on a particular area of concern, you can use as often as needed, so long as all pinkness and sensitivity has cleared up from the previous session.  
Pay attention to your skin. If it feels stressed or overly sensitive, give it a break. If you are seeing great results, keep it up!
The most important thing you can do after a microdermabrasion treatment is to moisturize. You have stripped away the dead skin cells and now the deeper layers are thirsty. The deeper layers are also more sensitive to sunlight. A great moisturizer with SPF is recommended to soothe, hydrate and protect your skin.
Keep your home microdermabrasion part of your regular skin care routine and you won't be disappointed!