Updated April, 2021.
The great thing about living in today's world is that there are solutions to every need that may arise (almost!) Technology and innovation have become vital parts of our existence.
Because of the advancement in science, we have solutions for fighting fine lines and managing wrinkles, how to prevent acne, how to diminish age spots and hyperpigmentation. We even use the power of light to treat aging skin concerns.
A popular spa treatment that can tackle a variety of skin problems is microdermabrasion.
It has been available for a while now but it was once only performed in clinical settings. Nowadays, microdermabrasion can be done at home thanks to many at-home devices that are available in the market.
In this blog, we will talk about the 3 popular microdermabrasion devices from Trophy Skin. MicrodermMD, RejuvadermMD, and MiniMD. May this serve as a guide if you are looking into investing in your own personal at-home microdermabrasion device.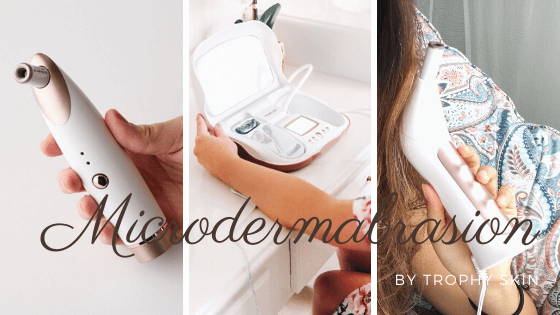 How many people has become hopeless that their acne scars will haunt them for all eternity? Who doesn't want to have a smooth, bump-free skin? Who doesn't want to erase age spots and even out their skin tone? Who doesn't want to take better care of their skin?
Some cope by wearing makeup and expertly cover their flaws while some go under the knife and surgically improve their skin's appearance. For most, they leave the matter into their own hands and invest in at-home personal microdermabrasion devices that can give results in the comfort of their own home.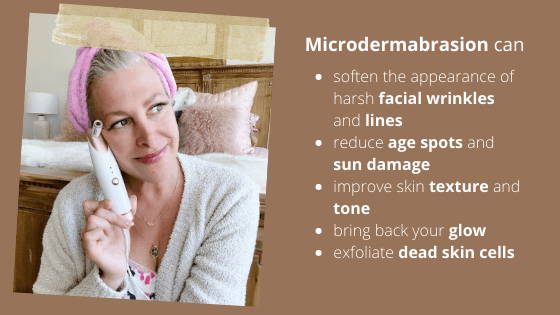 Microdermabrasion is our redemption from all those unhealthy habits we acquired all throughout those years.
In a sense, it is comparable to exfoliation, only better. It can erase years of skin abuse and continue to mend it without using harsh chemicals that may burn and damage skin.
Now, let's learn more about this skin care procedure.
What is microdermabrasion?
Microdermabrasion uses small grains like diamond particles or grainy creams and scrubs to buff away the top layers of our skin to reveal fresher and newer skin. (1) Microdermabrasion can be done in a spa, a doctor's clinic or at home.
Old versions of microdermabrasion machines utilize loose crystals to graze the skin however it is unsafe to do this at home by ourselves. It is messy and the tiny crystals might get ingested, inhaled or get stuck in the eyes. This could damage our eyes and may lead to blindness.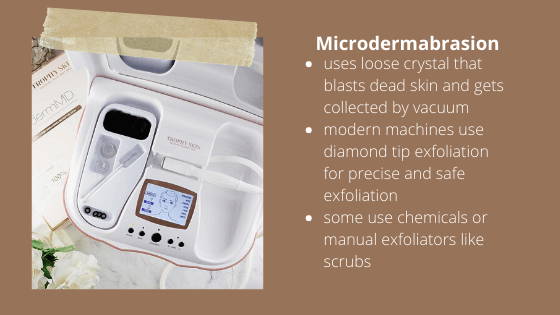 The newer machines now use a diamond tip to safely scrape the skin without the danger of inhaling the abrasive crystals. Depending on the kind of the diamond tip, it usually lasts a few uses and produces a more even result.
Both versions have a suction machine to vacuum the debris and dead skin cells to be collected in a filter. This is also important because it draws blood to the skin to deliver the nutrients our skin needs to repair itself.
The Trophy Skin Microdermabrasion devices use a diamond tip that is embedded with real diamond particles. This ensures to cut the skin safely and precisely, without going too deep.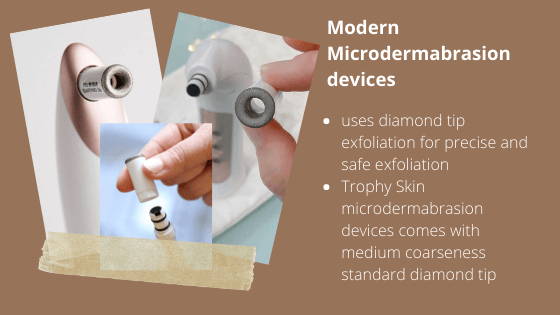 All the microdermabrasion tools come with the medium coarseness Standard Diamond Tip. We also have a fine coarseness diamond tip that is suitable for those with sensitive skin. Our Large Diamond Tip is heavy-grained and it is suitable to be used for our body or larger surface areas. The Precision Diamond Tip is created to get to the creases or angular areas of our face.
All of these microdermabrasion diamond tips are available on our website and can be purchased individually. Diamond tips last 3-6 months depending on frequency of use.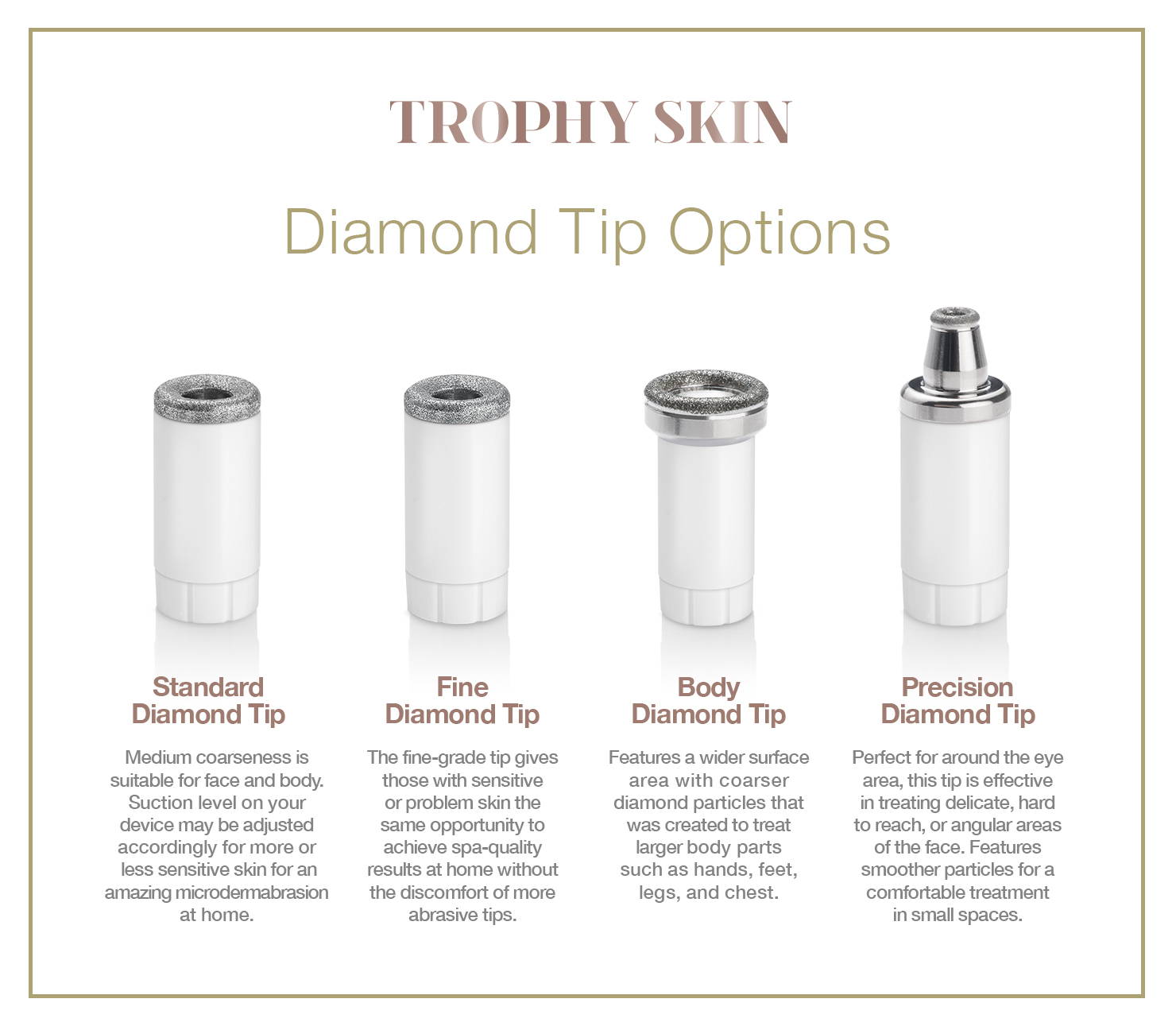 How microdermabrasion levels up your skin care routine
You might have a counter filled with all the expensive anti-aging creams you can get your hands on but you can't seem to tell if they work for you or not.
The reason is that while you slather your anti-aging cream on your skin, it doesn't penetrate the outer layers of your skin. It doesn't get into the part where it can be absorbed and do its work. It literally sits on your face to be shed off eventually.
If you ask us, that's a waste of time and a total waste of money!
Microdermabrasion helps remove the dead layers of your skin so that your creams and serums can do its work. It gets your skincare product to the layers that need nourishment and leads to a more noticeable skin improvement.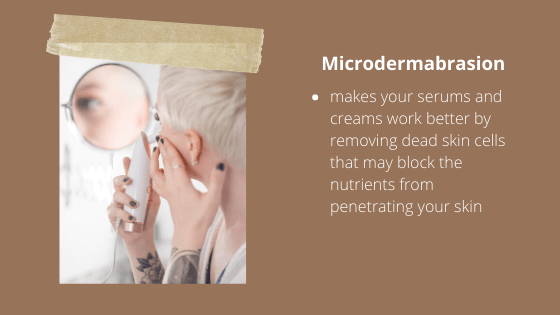 Aside from that, it helps get rid of skin congestion resulting to a smoother, more even finish that is so smooth to the touch. Even after just one treatment, you will notice that your skin is better. It is a life-changing treatment, you will never skip having microdermabrasion ever again!
Even celebrities love doing microdermabrasion because it makes their skin glow and they look younger and fresher. Many schedule their microdermabrasion appointments before a big event like red carpets or movie premieres where they will be subjected to countless photos and interviews.
They spend hundreds or thousands of dollars to continue getting the results they want because you just can't have one treatment forever. Our skin grows every day and the dead layers will build up in time, so your skin will look dull again eventually.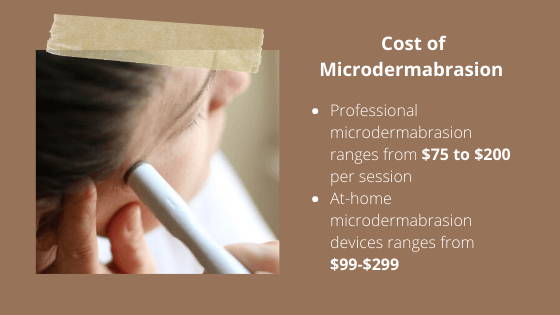 If the cost is not a problem for you, you can keep getting microdermabrasion from a salon or spa. But, if you have a tight budget, investing in your own microdermabrasion device is a better option for you. With continued use, microdermabrasion helps fight off fine lines and wrinkles. It lightens hyperpigmentation like age spots, acne scars, and it can fade away stretch marks too!
It improves skin congestion and helps remove whiteheads and blackheads. It can also make large pores appear smaller. In the long run, it can prevent the development of new acne.
In the long run you get a better return of investment in having your own machine compared to paying for professional services once or twice a month forever.
What machine is good for me?
Trophy Skin offers three microdermabrasion devices that are fit for everyone's needs. All you have to do is compare and weigh the pros and cons in choosing the right device for you. Below, you will see the inclusions for the kit, the length of warranty, the power levels and the price for each device.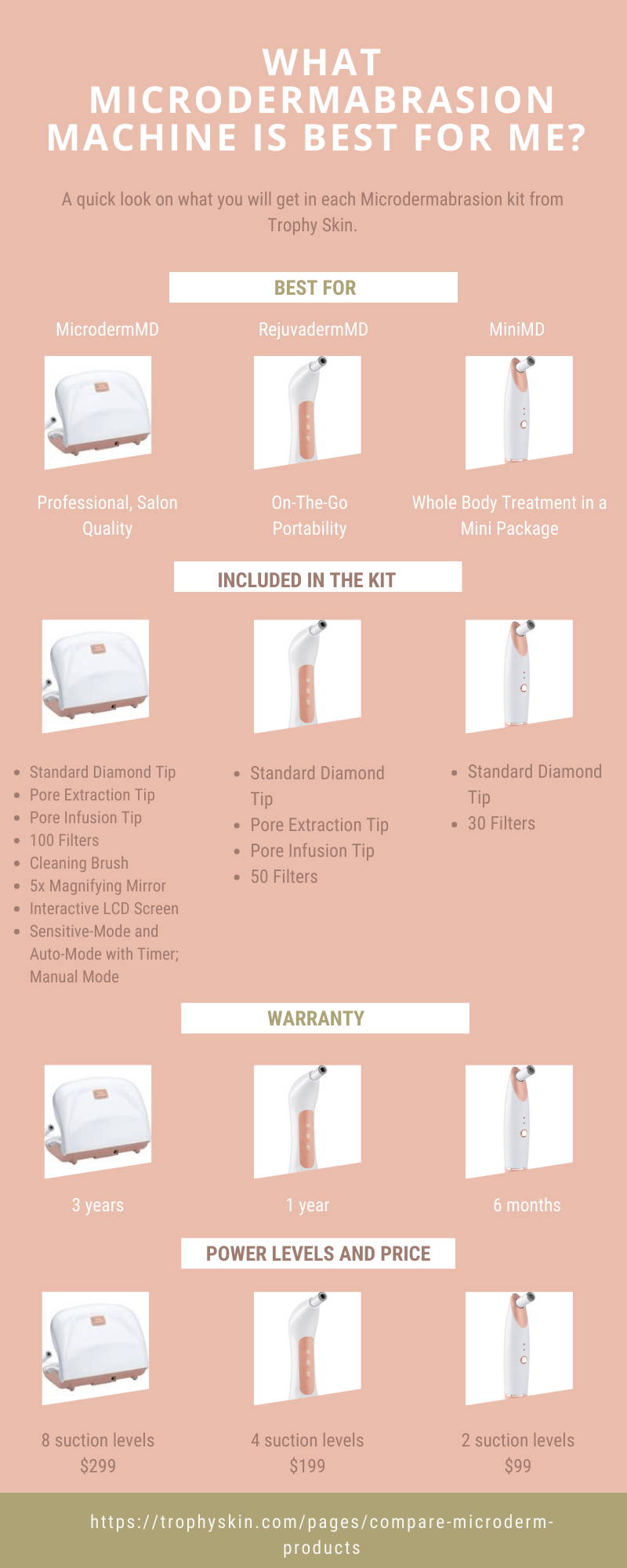 MicrodermMD Home Microdermabrasion System is the full-fledged microdermabrasion machine that is comparable to professional units. Again, it is comparable to professional units but we do not advise that you use it in a professional setting. This user-friendly home microdermabrasion system is a crowd favorite and delivers great results.
What makes it a winner is the Auto-mode it comes with. Even if you have no experience in using the device, the machine walks you through the process and make it appear like you've gotten microdermabrasion from a pro! Simply follow the instructions on the LCD screen and you are good to go.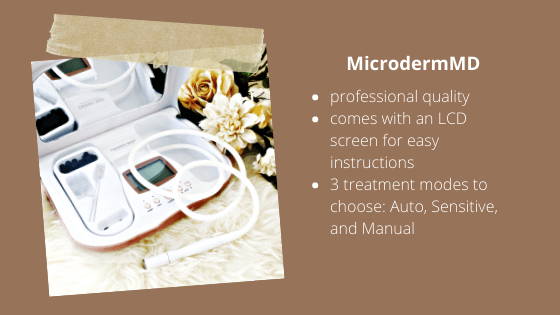 The Auto Mode comes with the pre-selected suction level and timer to do each area of the face, neck, and chest. It might be a challenge to work as quickly as the machine goes at first, but with a few practice, you can do this with your eyes closed.
Another mode we added is the Sensitive Mode. This works like the Auto Mode, only with gentler suction settings to make microdermabrasion more tolerable for those who have sensitive skin. If you have delicate skin, this is the perfect machine for you. You can also purchase our Fine Diamond Tip for gentler exfoliation.
Once you have gotten comfortable with the look and feel of the microdermabrasion, you can use the Manual Mode and work on areas that you'd like to focus on. You can select the suction level you are comfortable with and decide how long you want to do it.
A word of advice, you do not need to use the highest level of suction all the time!
There are areas of our body that is more sensitive than other parts. For example, the eye area is very delicate, you only need to use levels 1 to 3 on this area. And although it is okay to do microdermabrasion on this sensitive part, we do not recommend doing microdermabrasion on your eyelids and undereye. Don't go beyond the orbital bone!
Never, ever, attempt that!
Although the MicrodermMD is not heavy, it is bulky and takes up space in your luggage. It will definitely not fit in your purse.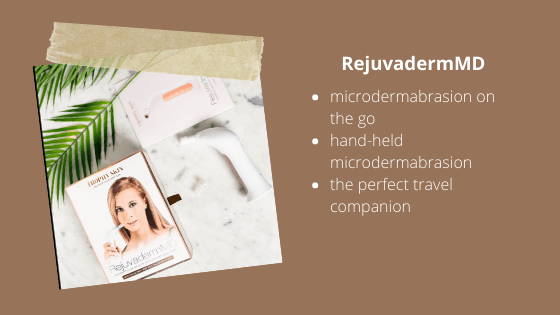 If you travel frequently or is constantly on the go, the RejuvadermMD is the perfect hand-held microdermabrasion tool for you. This handy, portable microdermabrasion system fits easily in your bag and is convenient to bring anywhere you go.
It is equipped with 4 different suction levels, progressing from low to high. For new users, we recommend that you start with the lowest suction first. Give your skin some time to get used to the feel of the suction and the diamond tip that carefully abrades your skin.
We understand you might be too eager to go to the highest level of suction, but again, you do not have to use the highest level of suction all the time. What it will just do is leave red, hickey-like marks on your skin because of the strength of the suction. Although it will go away after a few days, it doesn't look appealing.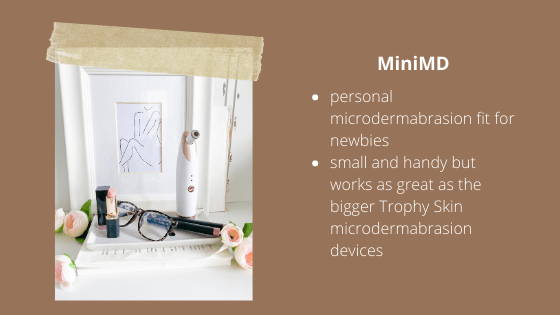 The smallest microdermabrasion tool that Trophy Skin offers is the MiniMD Microdermabrasion System. Even so, do not be deceived by this tiny device. It can be used for the entire body and works as hard as the other two microdermabrasion tools.
What we like about the MiniMD is that it is comfortable to hold while using. You can't believe that such a small device is capable of doing what other microdermabrasion devices can do. It exfoliates, it collects the debris, and it is handy!
Help me decide what machine to get!
Now that you know how microdermabrasion can level up your skincare game, it is time to make a decision.
What device fits better in your lifestyle, budget, and need? What factors do you need to consider before making that purchase?
Drum roll, please…
1. Check the Suction Power
If you are going to invest in your very own home microdermabrasion machine, it is better that you test the suction first. Most professional machines can go up to 28in/Hg but that level is not safe to be used by home users. That is why most home Microderm machines can only go up to about 22in/Hg.
Again, you do not need to use the highest suction all the time. You would want to feel the suction and that it is creating a vacuum on your skin so it can effectively remove dead skin cells but not to the extent that it hurts.
Why is suction even a part of the equation in buying a Microderm device?
Not only does suction collects and remove dead skin cells, the real reason why it is vital is because you want to have better blood circulation to reach your skin.
That is right. Our blood carries oxygen, nutrients, and components that heal wounds and infection. We want our skin to have better blood circulation so that the nutrients, collagen, elastin, and fibroblasts that are already present in our blood can work where it is needed.
After doing microdermabrasion, it is normal that your skin will look a little pink or red, depending on your skin type. It will subside after a few hours or overnight.
Now, going back to the Trophy Skin microdermabrasion devices, how do I pick the best tool in terms of suction?
All the microdermabrasion devices have the lowest suction at about 10in/Hg and go up to 22in/Hg. The MicrodermMD has 8 levels, progressing from the lowest to the highest. The RejuvadermMD has 4 suction levels while the MiniMD has 2 levels.
Do I really need all those levels when deciding which tool to get?
Having more suction levels to choose from enables you to customize the treatment that you are getting.
The Sensitive and Auto Mode in MicrodermMD has pre-selected settings developed by a dermatologist. There are different suction levels and timer for the forehead, eye area, nose, cheeks, neck, and chest.
When using the Manual Mode for MicrodermMD, you can choose the suction level you are comfortable with. For example, you can do Level 7 when doing your forehead but that level will be uncomfortable when you are doing the eye area. You can use Level 3 when doing the corners of your eyes but needs something more powerful when you are doing your legs or your chest area.
If you are a beginner in microdermabrasion, getting the MiniMD is a good option for you. It is easy to use, and you can start using the low level first so that your skin can get accustomed to the feel of the suction. Once you have had more experience, you can safely use the higher suction level.
The RejuvadermMD simply gives you more option than the MiniMD. Again, we recommend using the lowest level of suction first before leveling up. In time, you can customize how you want to do your microdermabrasion. You can use the lowest setting for delicate areas, Level 2 for the nose, Level 3 for the cheeks and chin, and maybe Level 4 for the forehead and the hands and feet.
Again, having more suction levels to choose from enables you to customize your treatment.
2. How much and what are included in the kit?
Another thing you want to consider in buying an at home microdermabrasion is what you are getting for the value of your money. Do you need all the accessories that are included in the kit that you like? Will it turn out to be more expensive than just getting the items separately? Let's investigate.
MicrodermMD costs $299 and includes the following:
Standard Diamond Tip

Pore Extraction Tip

Pore Infusion Tip

100 Filters

Cleaning Brush

5x Magnifying Mirror

Interactive LCD Screen

3 Treatment Modes: Auto, Sensitive, and Manual

1 year warranty
The Standard Diamond Tip is used to safely abrade the skin to remove dead skin cells, lighten hyperpigmentation and reveal newer skin. This comes will all the Trophy Skin microdermabrasion device. It lasts 3 to 6 months, depending on use. Replacements are at $35.
The Pore Extraction Tip is a plastic tip used to pull out excess oil, blackheads, and whiteheads. You can buy this at $15 and it fits all the Trophy Skin microdermabrasion devices. We recommend using the lower suction levels to prevent getting hickey-like marks. Use this tip in days wherein you are not doing microdermabrasion.
The Pore Infusion Tip is a good addition to your microdermabrasion device. Use this tip to drive your moisturizer deep into your skin. Apply the serum or cream to your face without rubbing it in. Use the lowest level of suction and move the tip in quick, circular motion until all the products are absorbed in the skin. This tip costs $15.
The Microdermabrasion Wool Filters are essential when doing microdermabrasion. This is what catches all the dirt, dead skin, and gunk from your skin! You must use a new filter every time you are doing microdermabrasion. It protects your suction machine from overworking and it helps keep the debris from clogging the machine. Replacement filters cost $15 for a pack of 100.
We included the cleaning brush in the MicrodermMD for your convenience. This is not for sale in Trophy Skin. You may also use a soft brush, like a soft toothbrush, in cleaning the diamond tip.
MicrodermMD has an LCD Screen that walks you through the process of microdermabrasion easily. All you need is to do is follow the diagram and you are on your way to perfecting your microdermabrasion skills like a pro!
If you are new to microdermabrasion, you might feel that you can't do it yourself. The Auto Mode is designed to make the process easy and newbie-friendly. All you need to do is select "Auto Mode", press "Start" then follow the instructions on the LCD Screen. If you have sensitive skin, choose the Sensitive Mode instead.
The Suction Levels and timer are pre-selected for you and is designed by dermatologists to deliver results like a pro!
Once you are at ease with your unit, you can customize your treatment setting by using the Manual Mode. You can select the suction level you are comfortable with and work on your problem areas for as long as you want.
RejuvadermMD costs $199 and includes the following:
Standard Diamond Tip

Pore Extraction Tip

Pore Infusion Tip

50 Filters

4 suction levels

1 year warranty
The Standard Diamond Tip is already attached to the device and just like in MicrodermMD, it is used to safely abrade the skin to remove dead skin cells.
The Pore Extraction Tip is also included to remove excess oil and gunk that clogs the pores. This is used when you want to purge your pores without exfoliation. Be careful in using this tip to avoid getting suction marks. Use the lowest suction.
The Pore Infusion Tip makes your serums and creams work better by opening the pores and pushing your skincare deep in your skin.
The RejuvadermMD has 50 Microdermabrasion Wool Filters to collect skin debris. You can get extra filters for $15 for a pack of 100.
The RejuvadermMD has no LCD screen for instruction but it is easy to operate. Long-press the one-touch operation button to turn the device on. You can switch to a higher suction level by pressing the button. Always start with the lowest suction to prevent damaging your skin.
This is a good tool to bring with you on travels. It comes with a universal adapter (with US 2-pinned prong adapter) and it works anywhere in the world. It has a 1-year warranty.
Mini costs $99 and includes the following:
Standard Diamond Tip

30 Filters

2 suction levels

6 months warranty (now updated to 1 year warranty!)
MiniMD is a good starter tool if you want to explore the world of microdermabrasion without breaking the bank. For just $99, you get your own microdermabrasion tool! That's cheaper than 1 expensive professional spa service!
You get unlimited use of your microderm tool and you can also buy extra attachments to make it more powerful!
You might not consider warranty when you are buying a product. Well, you should! Imagine if the warranty is just a week or a month, or if there is no warranty at all!
Getting a cheap unit that breaks down after 1 or 2 uses is a complete waste of money.
One of the most important things that you should consider before buying something is the length of warranty a company offers for their products. You need to be able to get help in the event something comes up or if the device you bought is faulty.
4. Results you want to achieve
You must also consider what results you want to see when making the decision to buy your at-home Microderm. If you are just curious about what microdermabrasion is all about or just want to prevent bumpy, clogged pores, getting the MiniMD is a great start. It is also a great gift to give away. The MiniMD can be used anywhere in the body or if you like, you can get extra accessories to make the most out of it.
All the extra accessories from Trophy Skin fit ALL the three Microdermabrasion devices.
If you are constantly traveling and do not want to miss on microdermabrasion treatments, getting the RejuvadermMD is the best option for you. The 1-year warranty already provides a great security net and you can bring your microdermabrasion tool with you anywhere in the world!
The power adapter for ALL microdermabrasion machines work on 100-240 volts, so wherever it is you plan on going, you can be sure to be able to use your device.
If you are working on pigmentation marks, preventing fine lines and wrinkles, or looking to erase stretch marks, having the MicrodermMD is the best choice. Working on these skin problems will need time and so that you can have the best return on your investment.
You do not want a machine that will die down in the middle of your way to erasing those age spots!
Hopefully, we have helped you understand the ins and outs of buying the best microdermabrasion machine for you. Again, the cost is just one of the things you will need to consider. Think about your personal goal and weigh things first before impulsively hitting that "buy button."
Smoother and more radiant skin. Anywhere. Anytime. Salon-quality microdermabrasion for soft, clear, glowing skin on the go!
Smooth and brighten the skin, and restore a youthful glow. Reveal your true radiance with the power of microdermabrasion!