Updated January, 2020
Let's face it. We are on the tail end of summer and, like me, I bet you spent a little too much time soaking up the rays. Even the most diligent sunscreen appliers may find a few more freckles or uneven skin tone than they had last spring. But worry not (and make more wrinkles in your forehead!). I am sharing with you part of a report from John Hopkins that shares treatment options for sun-damaged skin.
Excessive exposure to the sun early in life can make a person look older than he or she really is. Premature wrinkling and skin damage from sun exposure is also called photo-aging. Photo-aging, unlike natural aging, results in coarse, dry skin, freckling, skin discoloration, leathery skin, and deep wrinkles.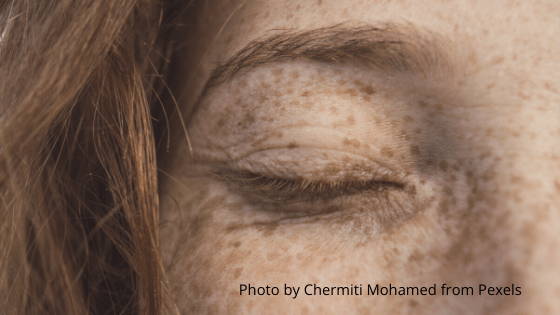 Treatment for sun-damaged skin
To minimize the effects of photo-aging, several treatment options are available for aging skin. Specific treatment for sun-damaged skin will be determined by your doctor based on:
Your age, overall health, and medical history

Severity of the skin damage

Type of skin damage

Your tolerance for specific medications, procedures, or therapies

Your opinion or preference
Treatment may include:
Botulinum toxin type A. An injection of botulinum toxin (a complex type of protein) into specific muscles will immobilize those muscles, preventing them from forming wrinkles and furrows. The use of botulinum will also soften existing wrinkles.
Chemical peels. Chemical peels are often used to minimize sun-damaged skin, irregular pigment, and superficial scars. The top layer of skin is removed with a chemical application to the skin. By removing the top layer, the skin regenerates, often improving the skin's appearance.
Soft tissue augmentation or filler injections. A filler is injected beneath the skin to replace the body's natural collagen that has been lost. There are multiple different kinds of fillers available. The filler is generally used to treat wrinkles, scars, and facial lines.
Dermabrasion. Dermabrasion may be used to minimize small scars, minor skin surface irregularities, surgical scars, and acne scars. As the name implies, dermabrasion involves removing the top layers of skin with an electrical machine that abrades the skin. As the skin heals from the procedure, the surface appears smoother and fresher.
This gentler version of dermabrasion, called microdermabrasion, uses small particles passed through a vacuum tube to remove aging skin and stimulate new skin growth. This procedure works best on mild to moderate skin damage and may require several treatments.
Intense pulsed light (IPL) therapy. Intense pulsed light (IPL) therapy is different from laser therapy in that it delivers multiple wavelengths of light with each pulse (lasers deliver only one wavelength). IPL is a type of nonablative* therapy.
Laser skin resurfacing. Laser skin resurfacing uses high-energy light to burn away damaged skin. Laser resurfacing may be used to minimize wrinkles and fine scars. A newer treatment option is called nonablative* resurfacing, which also uses a laser as well as electrical energy without damaging the top layers of skin.
Tretinoin treatment. Tretinoin treatment, a prescription topical cream, can reduce wrinkles, rough skin, and discolored skin.
Prevention, however, is the key to retaining a youthful appearance. Practicing safe sun exposure habits, such as using sunscreens correctly, staying out of the sun as much as possible, and wearing protective clothing and hats, are essential to keeping the skin healthy. In addition, practicing sun safety may prevent the development of skin cancer later in life.
*Nonablative dermatological procedures do not remove the epidermal (top) layer of the skin. Ablative procedures remove the top layers of skin.
How Trophy Skin Can Help You
The RejuvaliteMD (also known as RedMD) uses a breakthrough LED Anti-Aging device that combines the efficacy and intensity of the dermatologist's office with the comfort and convenience of a home use device.
The RejuvaliteMD comes with a custom LED panel consisting of Four (4) powerful LED wavelengths of high intensity light that are proven to be effective at reducing the signs of aging. This offers the same treatment performed at the Dermatologist office or Medical Spa, but at an affordable price in the comfort of your home.
The RejuvaliteMD is intended to help reduce the signs of aging, specifically the reduction of periorbital wrinkles, the reduction of fine lines and wrinkles on the face and neck, and the reduction of appearance of sun damaged skin.
The 120 LED bulb panel is split evenly between the Red (660nm), Yellow (590nm), Amber (630nm), and IR (880nm) that penetrate the skin at different levels, helping to spur the creation of new collagen, elastin and fibroblasts. The renewed skin and outward appearance comes from cellular level changes.
When used correctly, the RejuvaliteMD is a safe and effective method of reducing fine lines, wrinkles, skin laxity, and uneven skin tone. The RejuvaliteMD has been designed to integrate comfortably into your lifestyle, and can be used "hands free" while laying down, sitting up, or any other comfortable positioning.
It is important to remember that there is no miracle cure. Reversing sun-damage and aging affects to the skin takes time and patience. Your goal should be to see improvement in your overall skin tone and diminishing wrinkles. Some people may see greater improvement than others due to many factors, such as genetics, depth of damage, medications and a person's overall health.