Updated March, 2020.
Microdermabrasion is the most sought after procedure in medical spas today. This simple procedure is a crowd favorite because it has no down-time and you can do it in your lunchtime! But aside from that, it is a simple, easy-to-do treatment that gives you great results.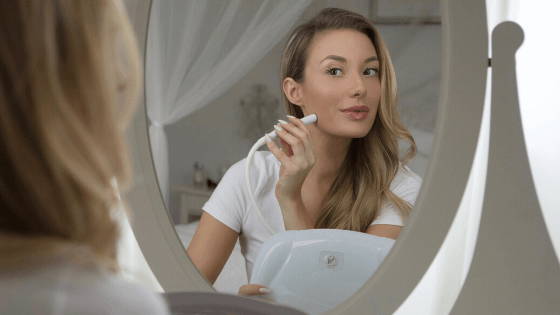 Types of Microdermabrasion

Microdermabrasion was originally done with crystals. It works like sand-blasting the skin to get rid of the top dead skin cells. The problem with this is the small crystals have the danger of getting into the eyes or getting inhaled. This kind of microdermabrasion is best left to the hand of the experts.
To make microdermabrasion safer, diamond tip exfoliation was introduced. It works the same way as crystal microdermabrasion but instead of blasting crystals on the skin, the diamond chips or dust is embedded in the tip. You can then safely stroke the tip on the skin, sloughing off dead skin as you go.
The Cost of this Treatment

Depending on your location and extra services availed, professional microdermabrasion can cost between $75-$200 per session. That cost can add up especially because you will need several treatments to get the best results.
And that's where Trophy Skin comes in. Imran Karim, the founder and president of Trophy Skin, used to own a successful medical spa in Texas. Although he had hundreds of happy customers, the common response he got was they hoped they could bring home the services with them.
That's why he worked with product engineers and dermatologists to come up with a safe at-home device that people can use in the comfort of their own homes.
Microdermabrasion is not for everyone!

Microdermabrasion when done wrong could be devastating for your skin. You may get scratch marks. You may worsen acne. You may get irritated, flaky skin, or you end up with broken capillaries.
If you are pregnant, if you are using retinols or other exfoliating methods, if you have an active lesion that hasn't healed, if you have active acne, or you have herpes, or lupus, then microdermabrasion might not be for you.
If for any reason, you have limited range of motion, or you have a condition that makes operating simple machines difficult, you may have to skip on getting your own microderm treatment. You may ask for help or let someone else do microdermabrasion for you.
That's why learning how to do microdermabrasion properly is important.
Why Choose Trophy Skin's MicrodermMD

MicrodermMD comes with 1 standard diamond tip, 1 pore extraction tip, 1 pore infusion tip and 100 filters. This is a great microdermabrasion collection to start with.
It costs $299 but that's a one time fee and you can get unlimited use. Compared to going for multiple professional treatments, you can save more money by buying your own microdermabrasion device.
It is designed just like a professional microdermabrasion device. It has a detachable standard diamond tip that you can wash after every use and replace in 3 to 6 months. You can safely do microdermabrasion 2-3 times per week, depending on how your skin can tolerate it.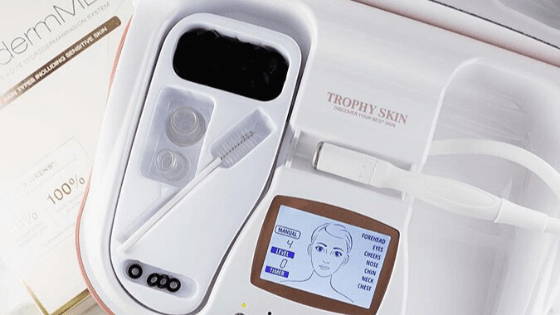 The MicrodermMD is built with Auto and Sensitive Modes. These are preset settings that take the guesswork out of doing your own at-home treatments. Simply select the mode you want to use, press start, and follow the instructions on the LCD screen! No need to set the suction level and timer because all that has been programmed for you!
Once you are comfortable with doing your own treatments, you can deviate from using the training modes and go manual. This time, you can select what suction level you want to use and focus on your problem spots.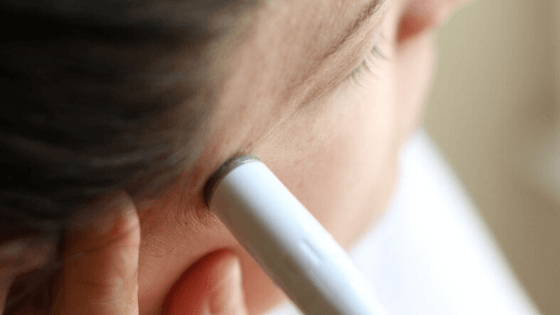 A word of caution though, do not get too excited in rubbing your skin! The diamond tip is made of diamond particles that are meant to exfoliate your skin. Too much friction will damage your skin so hold back! Do not go over the same area more than twice to prevent cutting too deep.
Also, since microdermabrasion involves suction, be careful not to stay in the same area longer than 5 seconds. The suction will vacuum your skin and it will give you suction marks, or hickey-like marks. This will be prevented if you do short, quick strokes on your skin.
Another reason why we believe having the MicrodermMD is a plus is because it has a 3-year warranty. We are so confident that we are giving you the best quality product possible. And with that, we also want you to be confident in buying your own microdermabrasion device. Because in the end, investing in your own skin is the best thing you can do for yourself.
Smooth and brighten the skin, and restore a youthful glow. Reveal your true radiance with the power of microdermabrasion!